The InkerMen Press has sadly stopped trading but this was for the constructive personal reasons of its main proprietor. But that fact does mean that any editions of 'Weirdtongue' and 'The Last Balcony' possibly still out there on Amazon etc. will dwindle quite fast. So with mixed feelings, I announce that there are, today, just over 50 editions of each of these two books actually in my own possession, and there will be no others.
And I thank the InkerMen Press for having published them.
These two books are available signed by me as the author. Please contact me at
dflewis48@hotmail.com
if you are interested.
The current prices 
are only
£8
for
Weirdtongue
(free postage in UK or plus £1 for airmail) and only
£16
for
The Last Balcony
(free postage in UK or plus £3 for air mail). By application to me and by PayPal only.
=====================================================
"Weirdtongue" (2011):
Details HERE. (paperback)
Reviews:
"The slim volume offers a journey like no other in weird fiction or outside of it. It is a destroyer of boundaries in every sense, chiseling away the confines of time, space, identity, and conventional literature." - Grim Reviews
"D. F. Lewis has torn his narrative to shreds to the extent that all he has left to show us are the rags that remain." – Theaker's Quarterly Fiction
A favourite genre read of 2011 for Matthew Fryer: as listed HERE. And: "D.F. Lewis is an extraordinary narrator and storyteller, and one is swept away by the feast of words…" – Hellforge
"'Weirdtongue' is not like that, it tests the reader (and I was often found wanting)  but rewards with some remarkable imagery, worthy of a Terry Gilliam  film." – Heart of Horror
"There is elaborate word play, with 'Glistenberry' used for Glastonbury, and given a deliciously sinister resonance, and a band suggestively named Goldwrap, and further language contortions, substitutions and mergers that delight with their invention." – Peter Tennant (in the printed 'Black Static')
—————————————————————————–
"The Last Balcony" (2012):
Details HERE. (hardback)
No review copies sent out yet, but already one major review and one kind comment below:
"I already know that I'll be recommending it most highly…"
– RHYS HUGHES, from his detailed review HERE
"The Last Balcony is one of the best author's anthology ever. [...] In the end, I can only be gratified to see this superlative collection appearing under the wings of the Inkermen." - Dan Ghetu of Ex Occidente Press (quoted from here)
============================================================
WEIRDTONGUE: A Glistenberry Romance: A Visit To The Narrative Hospital is published by The InkerMen Press.
A Visit to the Narrative Hospital and the Glistenberry Festival and Crackerjack! and the Mittel European gas ovens…
Crackerjack! I claim my propelling pencil.
////////////////////////////////////////////////////////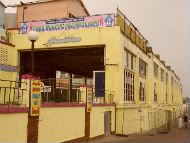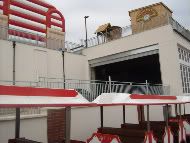 ==================